We, at Pop Up Occasions, cater to a vast range of customers all wanting a unique execution for card invitations, marketing materials for corporate or personal events. Thank you to our clients for allowing us to be part of your special occasion!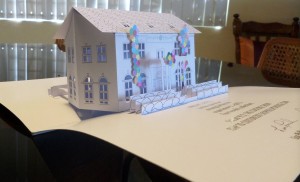 "The pop up house was a huge success, all of their clients loved it!" -wow..music to our ears….Thank you Madison for trusting us. We look forward to making more unique invitations for our corporate clients!" – Madison, USA
"Our wedding will happen in two weeks and we were in a rush to look for invitations that were unique, beautiful, and affordable. Popup occasions, is perfect for what we needed! The invitations were beautiful and out of the ordinary (and even our guests said so!)! Not to mention, we had a hassle free and fast transaction thanks to the patience of the team thanks so much for being a magical part of our special day <3"
– Czar and Pauline, Philippines 
"Wow! We are really pleased! :)) You guys did an excellent job! We especially like the inside of the invite. It perfectly matched our idea because we are aiming for a winter fairytale theme. Thank you very much for being so efficient. 🙂 We have no regrets in booking you and will surely refer you to our friends."
– Jill Tiru, UK

"We got the invitations!
They are lovely..you guys are awesome!
I will surely recommend you to others and will not forget you for future events.
Thank you so much! All the best"
– Chantalle, US
The invites arrived today and they r ———-> Amazing
I'm very impressed with ur work and service
You were fantastic and great to deal with
We appreciate all ur help
And thank you greatly
– Marian & Chris, Australia
"Opened your invites today. Superb indeed, very beautiful it exceeded our expectation;-) in fact, excited to give them out! Can't wait for relatives and friends to open and get awed by your marvelous creativity…I will definitely refer you and put good words of mouth for Pop Up Occasions."
– Jean, Philippines
"Thanks so much for yr patience with us to & especially with the pressure ye were under to get the invitations sorted in such a short timeframe! You were a lovely person to deal with, even if it was through email & telephone contact!!! 🙂
Everyone should know about ye!!! 🙂
The invitations were a huge hit, the feedback was brilliant ….. " best invitations ever …… never seen anything like them before….. Most amazing invites they had ever gotten .." Also people and a laugh off them too.
We're delighted , we just hope the big day is as successful !!! "
– Larry & Rachel, Ireland
"Great job Pop up Team!
I so love the mock up! You guys are really good coz you got the design that we want "
– Monique, Philippines
"Got the invites. They're so much better than I had imagined! Thank you"
– Lyne, Philippines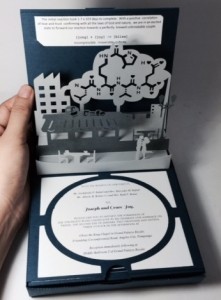 "Thank you Pop Up for the extraordinary invites.  From conceptualization up to picking-up the invites at your home, you never failed to amaze us (like a good cup of coffee!).   What we love about Pop Up is their
PROMPTNESS
in answering
ALL
our queries and
OPENNESS
to our suggestions.  Through series of
TRIALS / EXPERIMENTS
, we were able to come up with a
PERFECTLY BREWED
invitation.  This will surely create a
CHAIN REACTION
to our guests!
We wish you all the best Pop Up!  May you continue to be a POSITIVE CATALYST of happiness to your future customers."
– Jong & Joy, Philippines
"I just wanted to send you an email to thank you for such an amazing service that you have provided us. We couldn't be happier with the final product that we received. It truly does look amazing and beautiful, so thank you, THANK YOU SO MUCH. You attended to our needs, constant changes and being so timely with her responses, thank you!!! To Cora for expediting the production process that we received the invitations here in Canada even before the expected deadline. Thank you all so much! We are indeed very, very happy and I`m sure our guests will be too!"
– Giselle and RJ, Canada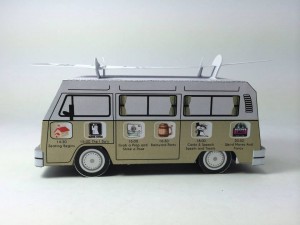 "To Pop Up Occasions, I cannot say enough fantastic things about Pop Up Occasions. I consider Pop Up design (our invites) to be one of my best wedding vendors; working with them is far easier than trying to track down etsy custom design work, from the wide variety of options to accepting our weird concepts. hehe It was exactly how we had hoped it would be."
– Jaja, Philiippines
"I just want to say a HUGE thank you for our wedding invitations!! We mailed them out last week and the response was "WOW" they are incredible. Fantastic work guys I will definitely recommend you to everyone who may need invitations"
– Tynan & Helena
"Thank you so much for the invitations….they're PERFECT…I love them…my sister was so shocked….I made them cry…so perfect…I will be promoting your business here in Australia…they all liked it.."
– Venus, Australia
"The feedback of our guests regarding the invitation was very very good! they loved it!
thanks again for your work."
– Lionel, France
"Hi Pop Up Occasions, just want to say thank you at sobrang nagustuhan ng tita ko yung gawa nyo. Until next transaction. God bless"
– Jhan, Philippines